CleanAllAir air washers
for odor & air purification

CleanAllAir air washers
for odor & air purification

CleanAllAir air washers
for odor & air purification
Chemical combi air scrubbers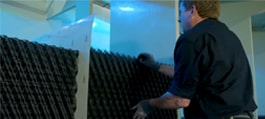 The chemical combi air scrubber is an extended version of the traditional chemical scrubber. The chemical combi washer is equipped with an extra biological cleaning package. By using a second filter wall, not only ammonia emissions, but also odors and particulate matter are greatly reduced.
The chemical combi air scrubber has an ammonia reduction of 85%, an odor reduction of 70% and a fine dust reduction of >90%. According to European certification, the dust reduction is even more than 95%. The chemical combi scrubber is certified in the Netherlands with BWL2006.14.V7 and in Germany with DLG certificate 5880.
The most robust air washing systems
As they used to say:
"May cost nothing and never break"
Our systems are still running after 20 years!
Top Quality Service & Expertise
Own breakdown service
powerful & personal
Literally the best in the market
Choose CleanAllAir: energy efficient and effective
With the chemical combi air scrubbers, the barn air first passes through the lamella package with acidified washing water. It then passes through a drip catcher and then through a second filter stage with plastic net filter, sprayed with biological washing water. Due to the biological effect, odors and dust particles are extracted from the air in the barn. The discharge water of the biological phase can be used for replenishing the washing water of the chemical phase. Due to the low resistance of the air filters and the special pump technology for the washing water, our chemical combi scrubbers are very durable and energy efficient.
Complete delivery
Naturally, we supply our chemical combi air scrubbers complete with automatic blowdown functionality and an electronic data logging system with internet preparation. The chemical combi air scrubber is available in a plastic housing, but it is also possible to realize it on site in a construction facility.
Quality and maintenance
Install a CleanAllAir chemical combi air washer and be assured of quality. Many of our washers still run without problems even after 20 years! Through our maintenance and service contracts (approved by the government), our experienced technicians ensure that your combi washer is optimally maintained. Professional preventive maintenance saves you from unexpectedly high costs. In addition to the maintenance report, you will optionally receive an indicative yield measurement. With this analysis you can demonstrate to the government that the air scrubber achieves the required ammonia, odor and dust reduction. More about maintenance & service.