CleanAllAir air washers
for odor & air purification

CleanAllAir air washers
for odor & air purification

CleanAllAir air washers
for odor & air purification
Organic combi air washers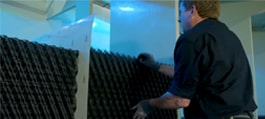 Biological combi air scrubber (BWL 2009.12.V4)
The biological combi air scrubber is a fully developed version of the standard biological air scrubber. Our combi air scrubbers provide a ammonia and odor reduction of 85% and a fine dust reduction of 90%. This results in a significant improvement of the air quality in the vicinity of your agricultural company.
By installing the biological combi air scrubber from CleanAllAir, you comply with the government's emission legislation and regulations while at the same time you can keep the same number of animals. The biological combi washer is certified in the Netherlands with BWL2009.12.V4 and in Germany a comparable version is certified under the DLG certificate 6781.
Choose CleanAllAir: the unique efficiency of our combi air washers
The high efficiency figures of the CleanAllAir combi air scrubbers are achieved by cleaning the barn air in two steps. This is done with a water curtain and a special filter package, which is continuously sprayed with washing water from the washing water buffer. This water buffer is equipped with a special device that allows the biology, which is responsible for the operation of the scrubber, to thrive optimally. As a result, odor, ammonia and particulate matter are optimally reduced.
The most robust air washing systems
As they used to say:
"May cost nothing and never break"
Our systems are still running after 20 years!
Top Quality Service & Expertise
Own breakdown service
powerful & personal
Literally the best in the market
Complete delivery
Naturally, we supply biological combi scrubbers complete with automatic blowdown functionality and an electronic data logging system with internet preparation. The biological combi scrubber is available in a plastic housing, but it is also possible to realize it on site in a construction facility.
pH stabilization system
A common problem with biological (combination) air scrubbers is acidification of the washing water. The pH value of a biological air scrubber must be between 6.5 and 7.5. Acidification has a negative effect on the operation of the scrubber and must therefore be prevented. CleanAllAir has been using a pH stabilization system for some time now, the effectiveness of which has been amply proven and is even mandatory in Germany on some types of biological combi air scrubbers.
Quality and maintenance
Install a CleanAllAir biological combi air washer and be assured of quality. Many of our washers still run without problems even after 20 years! Our experienced technicians ensure that your bio-combi is optimally maintained by means of our maintenance and service contracts (approved by the government). Professional preventive maintenance saves you from unexpectedly high costs. In addition to the maintenance report, you will optionally also receive an indicative yield measurement. With this analysis you can demonstrate to the government that the air scrubber achieves the required ammonia, odor and dust reduction. More about maintenance & service.