CleanAllAir air washers
for odor & air purification

CleanAllAir air washers
for odor & air purification

CleanAllAir air washers
for odor & air purification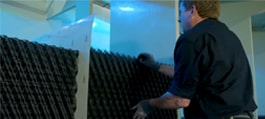 CleanAllAir supplies sustainable and energy-efficient biological air scrubbers that provide a ammonia reduction of 70%, 45% odor reduction and a particulate matter reduction of 75%.
By installing the biological air scrubber from CleanAllAir you comply with the emission laws and regulations of the government.
Does the environmental permit or permit require a higher reduction of odor and/or particulate matter? Then choose a biological combi air scrubber or chemical combi air scrubber.
Biological air scrubber operation
A biological air washer works with micro-organisms (bacteria). These remove ammonia and odor and fine dust from the outgoing stable air in an effective and environmentally friendly way. The wash water moistens the honeycomb filter and maintains the population of micro-organisms. The biological air scrubber works with small amounts of washing water and without further additives.
Choose CleanAllAir: energy saving and smart simplicity
The biological air scrubber has been designed with low operating costs and energy saving in mind. There is low water and energy consumption due to the very limited use of washing water. The system is characterized by smart simplicity. An additional water treatment can optionally be applied to further reduce the amount of discharge water.
The most robust air washing systems
As they used to say:
"May cost nothing and never break"
Our systems are still running after 20 years!
Top Quality Service & Expertise
Own breakdown service
powerful & personal
Literally the best in the market
Complete delivery
Naturally, our biological air scrubbers are supplied complete with automatic blowdown functionality and an electronic data logging system with internet preparation. The biological washer is available in a plastic housing, but it is also possible to realize it on site in a construction facility.
Extension with dust capture
The biological air scrubber can be expanded with a special dust collector. A system that humidifies and removes dust from the incoming barn air before it reaches the washing package. The dust collection system improves the performance of the scrubber and also contributes to even lower operating costs. Due to evaporation, this system ensures a reduction in discharge water of up to 90% compared to traditional systems.
pH stabilization system
A common problem with biological (combination) air scrubbers is acidification of the washing water. The pH value of a biological air scrubber must be between 6.5 and 7.5. Acidification has a negative effect on the operation of the scrubber and must therefore be prevented. CleanAllAir has been using a pH stabilization system for some time now, the effectiveness of which has been amply proven and is even mandatory in Germany on some types of biological combi air scrubbers.
Quality and maintenance
Install a CleanAllAir biological air scrubber and be assured of quality and durability. Many of our washers still run without problems even after 20 years! Our experienced technicians ensure that your biocombi is optimally maintained by means of our maintenance and service contracts (approved by the government). Professional preventive maintenance saves you from unexpectedly high costs. In addition to the maintenance report, you will optionally receive an indicative yield measurement. With this analysis you can demonstrate to the government that the air scrubber achieves the required ammonia, odor and dust reduction. More about maintenance & service.